About Jaspurr
Jaspurr had to be euthanized today after going into seizures. His presence will be missed by us all.
—————————————————–
Jaspurr is an outgoing, friendly boy who likes attention and loves to lay around and sleep on your lap. He also loves to be vacuumed, which makes grooming a breeze!
Jaspurr is a diabetic cat with his diabetes well under control with diet and two shots of insulin daily. Would dealing with diabetes be something that you would consider? Perhaps if you yourself are diabetic or have a diabetic child, this might be the perfect cat for you. If you consider adopting this handsome fellow, CCAR will supply the insulin and needles on an ongoing basis.
Jaspurr was abandoned in a cardboard box, likely because he was unwell with undiagnosed diabetes. Nothing deserves to be treated like that and this boy is now realizing, in his loving foster home, that he is safe and well. A guy like this deserves a home of his own.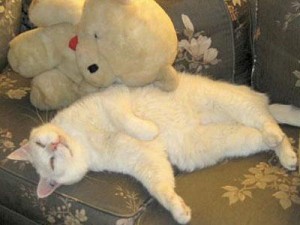 See All Memorials